Wednesday, September 07, 2005
Are there mistakes in the Bible?


Should we say, "The Bible has no mistakes?"

Is the above statement misleading?

Do you think the above proposition is leading to the loss of church members?

Should we venture to address, within the Church, textual criticisms and as such give a more detail definition of inerrancy?
posted by Rickie @ 2:57 PM


Wednesday, August 24, 2005
Can We Know Why We Do A Thing?
The question is the same as the title. Can we be sure of or know why we do x? Perhaps x is the act of helping an old lady across the street, or maybe x is intentionally entering into a debate. Can we know what our true intentions are? I'll provide context after some thoughts have been shared.
posted by Rickie @ 11:36 PM


Miami Ink











Recently, I watched a few episodes of TLC's Miami Ink. For those who have not seen the show allow me to summarize. It centers around four tattoo artists, an apprentice, and their clientele. It's heavy on eastern philosophy and cultural relativism. The show presents tattoos not so much as body art obtained by people looking to display their rebellious side, but rather as acts of commeration and artful expression.

To my knowledge none of the people I know, especially from BCF, obtained a tattoo with such honorable intentions in mind. Many openly admitted they did it because it looked cool, or they thought it was sexy (which is debatable). There are many women who have succumbed to the fad of placing a tattoo, usually some type of tribal imagery, on their lower back. Men have opted to tattoo barbwire or tribal imagery around their biceps. Worse, I think, are those, men and women, who felt some uncontrollable urge (the only reasonable explanation) to mark the back of their neck with an icon or foreign symbol. Neither of these are likely to be desirable marks for them, say, around age 40 onward. Especially, in light of the fact, that the markings were obtained for the sake of coolness or sex appeal. These are not the type of cases exhibited on

Miami Ink

thus far. Yet, tattoing remains controversial for some, even if the intention behind the skin art is more noble.

Anyone have thoughts, positive or negative, they would like to share concering tattoos?


Disclaimer: This article is not intended to offened those with tattoos. If you have a tattoo for coolness or sex appeal and you disagree with my opinion...shoot, I'll listen.
posted by Rickie @ 10:40 PM


Question: Natalee Holloway













Do you believe the Natalee Holloway investigation is receiving unfair media coverage compared to other like cases? Why or why not?
posted by Rickie @ 10:28 PM


Saturday, August 06, 2005
Thank You Mr. Bush Pic

posted by Rickie @ 12:57 PM


Soldier Cradling Little Child Pic

posted by Rickie @ 12:46 PM


Soldier & Kitten

posted by Rickie @ 12:44 PM


Soldiers Deliver School Supplies...Kids Rejoice

posted by Rickie @ 12:41 PM


Soldier and Boy

posted by Rickie @ 12:30 PM


Give Me Five

posted by Rickie @ 12:27 PM


Soldier and Boys Pic

posted by Rickie @ 12:26 PM


Boys All Thumbs Up Pic

posted by Rickie @ 12:25 PM


A Beloved Friend From The Past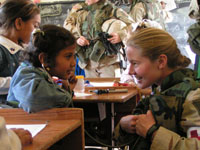 Here is a dear friend of mine from high school who served in Iraq. I came across this picture of her one day while surfing the internet. She is active military. She is a nurse and I believe her husband is military police (MP). He may have gotten out of the service. I am not positive though. She is now stateside I believe.

posted by Rickie @ 12:18 PM


Thursday, July 21, 2005
A Night Among The Stars














An evening out with Julia Roberts and some wise crack.
posted by Rickie @ 6:37 PM
















Dr. Moreland (evening seminar). No time for doodling.
posted by Rickie @ 6:31 PM


Things you shouldn't do while the professor is lecturing














I now use paint to doodle when I get bored. The lectures are good but on day 8 after 64 hours of lecturing the mind begins to look for escape. I' m not sure what the image above says about my state of mind...
posted by Rickie @ 6:12 PM


Reflecting on my childhood, I was led to draw a comforting reminder of happier days.
posted by Rickie @ 6:11 PM

















The mind is returning to matters of theology.
posted by Rickie @ 6:10 PM


About Me
Name: Rickie
Home: United States
About Me: I am currently working on a Master of Arts in Apologetics. This site is intended to stimulate discussion, as well as, inform. I welcome differing opinions, especially opposing views that engage me intellectually and challenge me to think in new ways. I may continue to disagree with you, but I welcome the dialogue. The beautiful woman in the picture with me is my wife. I personally think I married one of the most giving and beautiful women in all the world, an opinion that is not open for debate.
See my complete profile
Manuals
Receiving
Inventory
Shoutbox
Jesus wants a child's heart and a grown-up's head. ~C.S. Lewis
Warehouses
Powered by